Assistance and Guidance Section Services
Publication Date :
Last updated:2023-06-02
View count:1244
Treatment approaches for drug criminals under sciences positivism
The Agency of Corrections, Ministry of Justice has proposed treatment approaches for drug criminals. The courses are based on 13 principles of treatment, 7 major aspects and a four-way connection. The goal is to keep the teens away from drugs for the rest of their lives.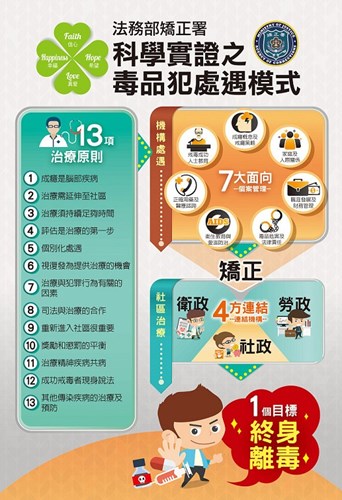 "Pillow Talk"
To compensate for alienation due to the distance between the detainees and their families, we record the detainees' expressed thoughts during the "Pillow Talk" sessions, edit the recordings and burn them on CDs. We let the teens deliver the CDs to their families in person or through mail to help them mend the emotional connections and strengthen their relationships with their families
Promotion of legal education
We combine the resources from the society and coordinate events for promoting legal education. Strengthened "legal education" will implant and transfer the law-abiding spirit in the values of an individual, so that the teens can comply with the rules and will not break the law due to a lack of knowledge. Legal education courses are provided.
Volunteer consultants
In order to allow the detainees to receive continuous consultations despite the restricted workforce, volunteer consultants visit the detention house every week to conduct one-to-one consultations, listen to the teens and stay with them as they are going through a slump.
Study group and growth group
The Tzu Chi and Fo Guang Shan volunteering groups lead the study group and growth group every week at the detention house. They lead the teens to understand the context of the books and integrate the ideas into their lives. The teens can also improve their expression and communication skills by sharing and giving feedback.
Family support program and group course
Families are the most important source of support to the teens. The professionals from the Taiwan Family Education Association conduct group courses, teaching responsibilities to the children, improving parenting performance and organizing co-reading activities. The family support group courses are promoted to raise the connections between the teens and their families